Pet wellness plans provide regular preventative care for your pet and allow you to spread this cost over 12 months. While pet insurance protects against future accidents and illnesses, a pet wellness plan covers your pet's annual shots, wellness exams, blood work and can be extended to pay for dental cleaning, flea/tick/heartworm meds and spay/neuter costs.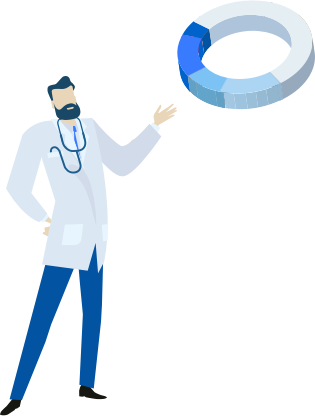 You can either add a wellness plan to a pet insurance policy for the best full coverage for your dog or cat, or just sign up today for a wellness plan to pay for their preventative care.
Healthy Pet
$14.95
p/mo
Happy Pet
$24.95
p/mo
Super Pet
$39.95
p/mo
Annual wellness/ Physical exam
A wellness exam or physical is recommended by your vet annually and is an overall general health assessment. Usually your vet will take your pet's temperature, check their coat, enquire about their diet, examine their ears, listen to their lungs and heart sounds, check their abdomen, have a look in their mouth to check their gums and teeth, inspect their eyes and finally, examine their paws and toenails.
Annual vaccines/ boosters
It's really important for your pet's ongoing health that they be protected against a wide variety of diseases with routine vaccinations and boosters recommended by your vet. Common vaccinations include:
Distemper/Parvo
Bordatella
Leptospirosis
Lyme Disease
Rabies
Bloodwork/ Diagnostics
This is recommended to allow your vet to identify any diseases, parasites or infections your pet may have. The sooner this is done the sooner health issues can be caught and treated. Examples of diagnostic testing include:
Blood work, including internal organ screens
Heartworm/Lyme/Ehrlichia test
Ear swab and microscopic exam
Flea/Tick/ Heartworm meds
Protecting your pet from harmful fleas and ticks is really important, and can be really expensive. Likewise, if your pet takes heartworm meds regularly you'll know how much that costs. Claim for up to $200 a year in coverage for any combination of flea/tick and heartworm meds (or just claim the full amount for flea/tick meds).
Spay/Neuter
If your pet hasn't been spayed or neutered yet then here's $150 towards the cost of surgery. The benefits of a pet that have been spayed/neutered are many, such as fewer behavior problems, less aggression and better overall health.
Dental cleaning or procedure
Keeping your pet's teeth clean should be as important as their physical exams. Untreated dental disease can be terribly painful for them, and lead to loss of teeth and gum tissue. This coverage will pay $150 towards a dental cleaning, or any other dental procedure your vet advises (including antibiotics).